In this post:
Misinformation
Windy Forcast: Tie it down
Ride Details and two important map
Afterparty
Witch Ride Rules
Misinformation
Has a witch got questions?
Please be aware that there is a lot of misinformation flying around about the details of our 2023 12th Annual Witch Ride on Saturday, October 28th.  Some media outlets are reporting last year's details.
The only reliable source of information, including maps, is this page.
Windy Forcast: Tie it down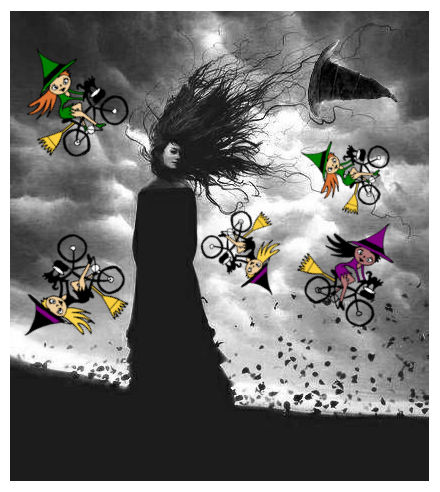 The forecast is sunny but calls for winds up to 20 mph out of the east, so we'll be dealing with a sidewind.  Tie down those decorations and hats.  Tap the image below to see a video of how to tie your hat down.
Ride Details
The ride BEGINS and ENDS at Anchor Park.

There is NO vehicular parking at Anchor Park. A1A is closed. There is NO parking along the street. Please park at a nearby public parking lot and ride your bike to the park.  (See map below.)

There is additional parking and room for trailers bringing multiple bikes at The First Presbyterian Church, 33 Gleason St, Delray Beach, FL 33483
Arrive at 7 a.m. or earlier to check in and get in line.  Take off promptly at 8:00 a.m.
Check in at the Achievement Center tent when you arrive at the park.
Water and bathrooms are available at Anchor Park.
Proceeds from our ride benefit Achievement Centers for Children and Families.
Two Important Maps
Getting to Anchor Park/Parking
There is no parking at Anchor Park, which is reserved for the event.  Please see the following map for parking options.  Parking are fees required after 8 a.m.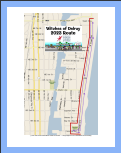 (View/Download/Print the Parking Map)
Arriving at Anchor Park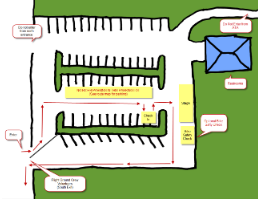 (View/Download/Print this as a PDF)
Afterparty

Del Fuego has offered to open early (10:00 a.m.) for the Witches of Delray afterparty.  They've even prepared a special menu for the festivities.  Join Alpha Witch and your fellow riders to celebrate this year's ride and the funds we raised for the Achievement Centers for Children and Families.

Witch Ride Rules
Bicycles only. No scooters, golf carts, or rollerblades. Tandem bikes, e-bikes, and tricycle bikes are okay.
Riders must be 18 years of age unless accompanied by a parent or guardian. Riders 14 years and up may ride if accompanied by a parent or legal guardian AND a parental waiver is signed by a legal parent or guardian. By law, riders under the age of 16 MUST wear a helmet and will be turned away if not wearing a helmet. Alpha Witch decorates a helmet with a witch hat to set a good example.
Do not use phones or cameras while riding. The road, other riders, pedestrians, etc., should have your full attention.
Only one rider per bike. No children in child bicycle seats or carriers will be permitted.
No pets.
Stay entirely out of the oncoming lane. Although we have the entire street, you will meet witches as they are returning.  As you approach the turn-around, you will be funneled down to single-file to safely turn around.
Make sure costumes and bike decorations do not interfere with safe bicycle operation. An optional free bicycle safety check is provided on the morning of the race by Richwagen's Bike & Sport and the Delray Beach Bike Club to ensure the safety of our coven.
Do not follow other riders too closely. Riders may have to stop quickly due to unexpected.
road hazards, and you will need time to stop safely.
Be courteous and aware of vehicle and pedestrian traffic. Remember, we are representatives of our community and the Witches of Delray.
This is a slow parade, not a race. Do not pass the Alpha Witch.
Do not hand out candy.
Come FLY with the Witches of Delray!