It's that time of year, my pretties! Our 12th annual Witch Ride benefiting Achievement Centers for Children and Families is just two months away, and Alpha Witch is here with a big announcement!
This year, the Witches of Delray are introducing an all-new, entirely seaside route! That's right, witches, our flight plan has changed! Click the map below to see the new route.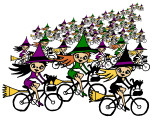 Tickets for our flight are $50 per rider and go on sale this Monday, August 28th, at 10 a.m. And as if that wasn't exciting enough, our new safer route means MORE witches! Yes, we've added 100 extra spaces this year! What's better than 300 witches? MORE witches! Please get your tickets fast, as we are sure to sell out!
Tickets for our 9th annual Witches Brew Happy Hour kickoff at Tim Finnegan's Irish Pub also go on sale Monday. You can sign up now to secure your Toil and Trouble table for you and your favorite ghouls to decorate and win our table decorating contest. (Availability is limited.)
Rider check-in and staging will take place at Anchor Park, as our new route will be from Casuarina Road to George Bush Boulevard and back along scenic A1A, with our post-ride shenanigans and contests being held at Anchor Park.
Official Witches of Delray Merch will be available for purchase at the brew. New this year: T-shirts, tank tops, and hats featuring our new hashtag, #weflyseaside.
More details are coming soon!
Come FLY (seaside) with the Witches of Delray.