This is it, Witches! The eve of our flight!  We wait all year for this moment and now it's here!! Tomorrow morning we will be flying through our beloved Delray Beach!  
In this blog post:
Flight Plan
Old School Square Arrival Information.
Make sure you know how to ride with a police escort.
Flight Plan
Please arrive as early as you can at City Hall for take off.  This gives you plenty of time to go through our Bicycle Safety Check and take part in all the pre-flight shenanigans and mingling! We take off promptly at 8 am. 
On Flight:
Please try to maintain pace with the rest of the witches.  We fly at an 8 mph pace, the officers that protect our flight cannot go slower than 8 mph. This is not a race and it can be difficult for some to go this slow.  It can also be difficult for some new riders to go this fast, so just please try to keep an eye on the witches around you.  We want to avoid stretching out too long as it makes the ride more difficult for the police officers to manage. No more than 2 witches abreast. We need to stay in the right lane and not flow into the left lane, as the police officers use that lane to "leapfrog" around us to protect the next intersection. (See safety video 4 How to ride with a police escort.) Avoid abrupt stops as they can cause the riders behind you to pile into you.  There will be a water stop/catch-up stop at the Sandoway Discovery Center parking lot to help us arrive as a group at Old School Square.
Otherwise, nothing has changed with the departure and the schedule since my last email.  Here are the details in case you missed them or want to review them:
Click or tap the "Route Map" below and share it with friends and family who want to come out and cheer you on.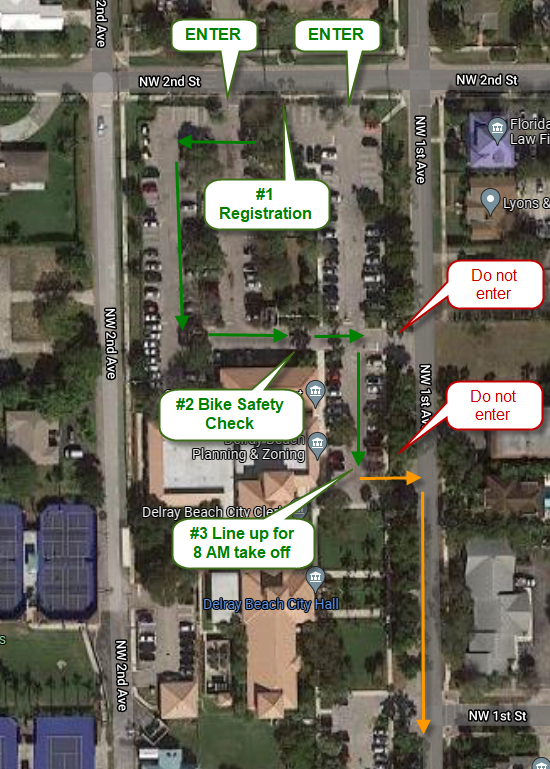 Click or tap the "City Hall" map so you know where to go when you arrive for the ride./
11th Annual Witches of Delray Charity Bike Ride – Saturday, October 29, 2022.  7:30 AM at Delray Beach City Hall at 100 NW 1st Ave, Delray Beach, FL 33444.
We'll be ready at 6:45 so plan on arriving early to check in, beat the line for the bicycle safety check, and mingle with your coven before takeoff promptly at 8 AM. There will be photographers to capture the fun.
When you arrive, check in at the Achievement Center check-in point (see map above).  After that, proceed to the bicycle safety check.  If you've got WSP (Witches Safety Precheck) you'll get to skip it and proceed to the front of the line.  
Bathrooms are nearby at takeoff at the Community Center immediately south of City Hall.
There will be a bathroom/catch-up and water stop along the way at the Sandoway Lot on A1A.
There is plenty of free parking at City Hall or if you'd prefer to park at the landing site, plan on parking in the old School Square parking garage which is also free (before 4 PM). It is just a block and a half away from the takeoff spot.
Stick around after the ride for contests, entertainment, photos, and more post-ride shenanigans ending around 10:30 am.
Old School Square Arrival Info
Out arrival is a bit different than last year.  Instead of coming to the amphitheater directly from Atlantic, we'll be making a left onto NE 2nd Avenue and enter proceed via the sidewalk in front of the parking garage.  See the map below to see how we'll proceed.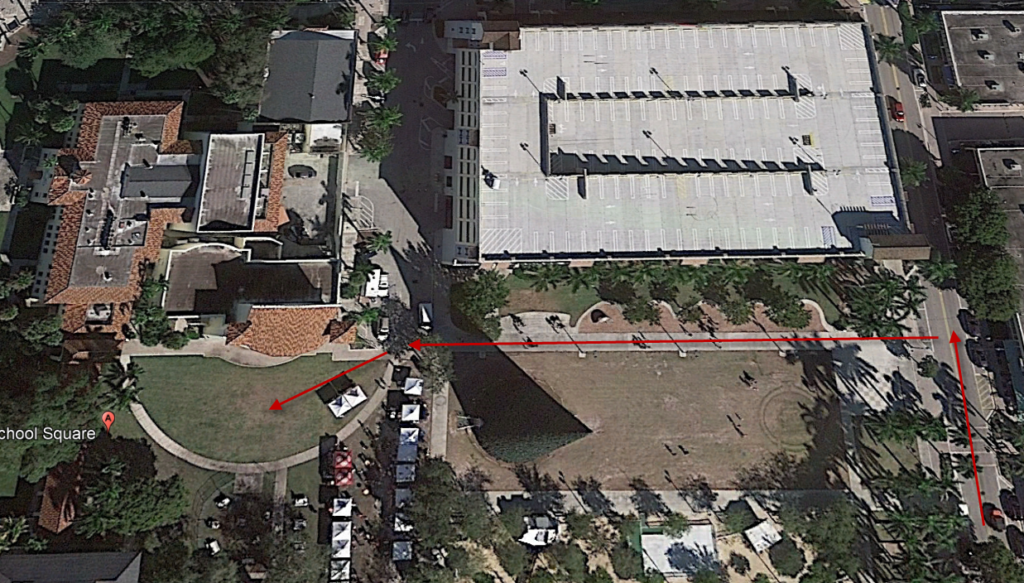 As for the post-ride shenanigans… If you're a spectator wanting to watch the landing, plan on coming to Old School Square at around 8:45.  Here are the deets:
Stop by the Achievement Centers for Children & Families tent to learn about this fantastic local charity.
The ACCF step dancers will show off their latest moves in a brief performance while everyone gets ready for the contests.
Wordsmith witch will share this year's poem.
We will award a very deserving witch the Witches of Delray Golden Broom Award. 
The "Big Check" presentation.  Find out how much you helped raise for the ACCF!
Contests and announcing the contest winners.
After the Post-Ride Shenanigans, check out the nearby Delray Beach Green Market or head down to Lionfish Modern Coastal Cuisine, the official Witches of Delray brunch headquarters where they will be serving up a very special Hocus-Pocus themed brunch!  The tables are going fast so call the restaurant at (561) 639-8700 or go to the reservations page at Lionfish to make your reservation.  
It's the most magical day in Delray witches! and it's all ours! 
See you in the morning! Only one more sleep. 
XO 
Alpha
How to Ride With a Police Escort
We will be riding with a police escort.  Make sure you know how to do this.
How to Ride with a Police Escort.  They do the hard work but you need to know how to stay safe.
---
Tie it Down!
Learn how to tie down that hat! The Witches of Delray flight does not stop for wardrobe malfunctions.
---
Don't be "That" Witch
Don't be THAT witch! Don't wait till the last minute and throw it together! Do your safety check, secure your decorations and test ride your bike decorated.
Don't Be "That Witch"
---
Be "That Witch"
Be that witch! The one that checks and tests their bike fully decorated.