Wednesday, October 12th, 7 PM – Tim Finnegans Witches Trivia to Benefit the Achievement Centers for Children & Families.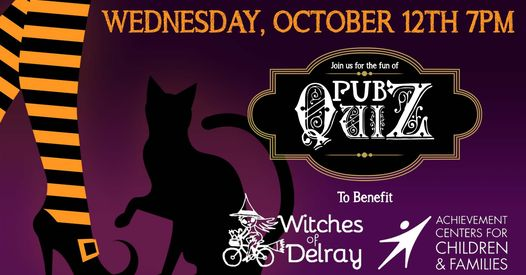 Think you're clever? Join us for the best trivia in Delray Beach! This special "witchy" trivia event is a fundraiser in support of the Witches Ride and the Achievement Center for Children & Families.
PUB QUIZ FROM 7 PM – 10 PM WITH MARTINI MADNESS – $5 MARTINIS
Friday, October 21st, 6 PM – Witches Brew at Tim Finnegans Irish Pub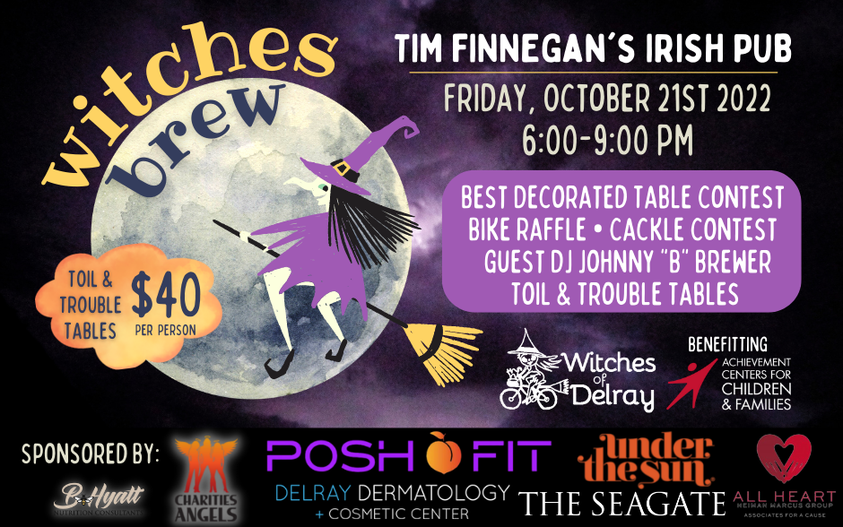 Purchase your "Toil & Trouble" table for this year's Witches Brew benefitting the Achievement Center for Children & Families HERE
Best Decorated Table contest
Best dressed brew attendee
Witch Cackle Contest
Guest DJ Johnny "B" Brewer
Door Prizes
Auction items
A chance to win a new bicycle (Broom)
11th Annual Witches of Delray Bike Ride
11th Annual Witches of Delray Charity Bike Ride – Saturday, October 29, 2022. 7:30 AM at Delray Beach City Hall.
To register for these events, please click HERE
We'll be ready at 6:45 so plan on arriving early to check in, beat the line for the bicycle safety check, and mingle with your coven before takeoff promptly at 8 AM. There will be photographers to capture the fun.
There is plenty of free parking at City Hall or if you'd prefer to park at the landing site, plan on parking in the old School Square parking garage which is also free (before 4 PM). It is just a block and a half away from the takeoff spot.
More details are coming soon via our mailing list (signup HERE) or our Facebook page at https://www.facebook.com/WitchesOfDelray