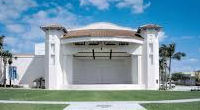 The following schedule is tentative and may be updated as we get closer to the ride.  Please check this post before the ride to make sure you have the latest schedule information.
7:45 AM: Plan on meeting in front of the Old School Square Pavilion – 51 N Swinton Ave, Delray Beach, FL 33444.  There is nearby free parking at the Old School Square parking garage, the Railroad lot among others.  (See route map which includes parking HERE).  Restrooms are available nearby.  There are no restroom stops along the route.
Even if you've preregistered, plan on arriving early as you'll need to pick up your wristband. The Flying Monkeys will be on hand to air up tires and assist with bicycle issues. Photographers will be on hand to capture rider photos.
8:30 AM: Group photos.
8:45 AM: Rider safety instructions by Patrick Halliday of Delray Beach Bike Club and Human Powered Delray.
8:55 AM: The ride begins! We are trying to time the ride to avoid drawbridge openings and we don't want to be late to the Green Market.
10:00 AM – 10:15 AM: (approximate) Arrive at the green market for group photo, contest judging.
10:30 AM: Group Photo.  We realize some witches may not be able to stay for the contest but please plan on sticking around long enough for the group photo.
10:45 AM: Official contest Judging by local Delray Beach celebrity judges.