NOTE: Due to forecast winds of 20 MPH on Saturday, it is very likely we will shorten the 6 mile route down to 4.3 miles.  This will be decided at or during the event based on weather conditions at the time.
WHERE: Arrive at the Pavilion near Old School Square
Free parking available in the Old School Square parking garage, or several nearby public parking lots. See the route map for parking options.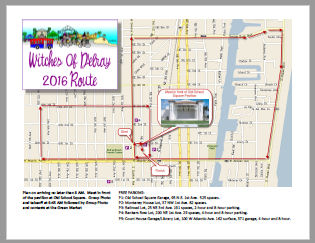 WHEN: Arrive no later than 7:45 AM, Saturday October 29th, 2016. You will need time to:
Check in – Even if you've pre-registered, you will need to check in at the registration table to receive your rider wristband and make sure we have a signed wavier.
Register – If you didn't pre-register online or at the fundraiser, you might plan on arriving at 7:30 to register.
Flying Monkeys will be on hand to air up tires and perform bicycle safety checks.
Tie everything down. We're expecting 20 MPH winds so make sure your hat is tied down. If you missed the "Grommet Station" at the fundraiser, flying monkeys can put small holes in your hat and give you a string to tie it down. Flying monkeys have additional supplies to help tie decorations down. Don't underestimate the foretasted 20 MPH winds.
You'll have time to enjoy meeting other witches, looking at the bikes, taking pictures and meeting other members of the coven.
Rest rooms are available.
Event Schedule:
7:45 – check in / registration.
8:00 AM to 8:45 – Safety checks, professional photographer Jim Greene will be on hand to capture photos of the pre-flight activities.
8:45 – Rider instructions (Patrick Halliday and the Delray Beach Police Department)
8:55 – Line up for takeoff – Group photo by professional photographer Jim Green.
9:00 – Witches Take Flight!
9:45 – Witches return to the Green Market. Water station / refreshments / restroom break.
10:00 – Group photo / check presentation.
10:15 – Self-judging to select finalists for best broom and best costume contests.
10:40 – Contest begins featuring local celebrity judges.
11:20 – Contest winners announced.
11:30 – Event wrap up.