Fundraiser Results
This year the fundraiser raised $3,153 the Achievement Center for Children and Families. Once again the witches have outdone themselves and exceeded the previous years fundraiser amount which was $2,096.
Combined with riders who have pre-registered, we've already exceeded last year's grand total and we still have more riders to register. Help us fill out this check. What will the grand total be?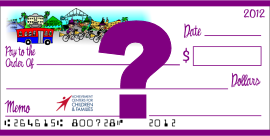 As for the event itself, it was a wicked fine blast! You can view photos of this amazing event in our photo album HERE. Be sure to check out Alpha's "Selfie Broomstick" photos.